Norway is not a welcoming country. Not when the bottled water is on sale for R60, or the quotes for the taxi from Oslo airport to the city centre start at R2400. I can also splurge on a fancy limo for R14000. Maybe choosing the cheap flight and arriving in Oslo after midnight wasn't such a good idea after all.
I finally make it to my accommodation. Having failed to find a couchsurfer (another reason not to arrive after midnight), I look away as I hand over my credit card. Punch in my pin and hope my transaction doesn't send the rand into freefall again. With impeccable timing, the finance minister has been charged with fraud, sending the currency plummeting 3.5% the day before. With the Euro, I can neatly pretend R1 equals 1 Euro (it's actually 15 to 1), and everything looks a bargain. In Norway, that trick doesn't work, as it's about 2 to 1, and prices still seem outrageous even without doubling.
The person at the counter asks me if I want bedding. "Er, bedding?" I ask. Yes, the hotel room comes without bedding. OK, the place is a bit of a dive, but it doesn't include bedding? "Er, yes, I suppose…" That's a further R92, thanks to the infernal machine showing me the price in rands.
There was a review saying the place looked like a mental asylum. Online reviews, eh, always exaggerating.
The place looks like a mental asylum. The lift doesn't work, and I find myself staggering up I forget how many flights of stairs, and in a long corridor, white walls, no windows, with poky doors. I expect to see bars on them, but am too tired to look. I find my room, am too tired to even put on the duvet cover, and collapse down to sleep.
A good lesson in why "order by price, lowest first" isn't always a good idea when choosing accommodation.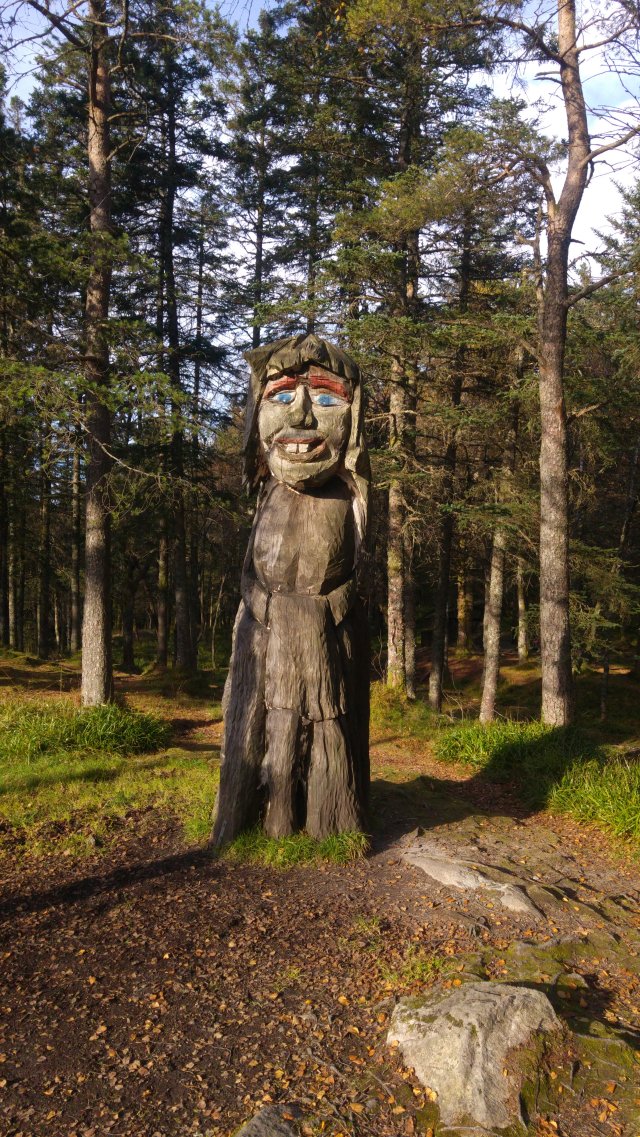 I wish I looked as good as this after arriving in Oslo
I plan to stay in Oslo one or two days, and then catch the train to Bergen. I even have a couchsurfer from later in the evening after he gets back from work. Which means I get to check out, and wander around the city hauling my bags around. I came to Europe for work, and politely made sure I had a clean pair of underpants for every day, but now I'm tempted to burn the lot so that I can travel light.
I wander through the botanical gardens. It's autumn, and everything looks like I did the night before. I carry on to the train station. There are lots of beggars. I wonder about the viability of setting up a proxy beggar, and sending the daily earnings back home. Probably eradicate poverty in Cape Town.
Looking online before, there are regular trains from Oslo to Bergen. I come across the train station, and decide to buy a ticket there. It turns out there's a train strike, with limited trains and most of them full. The only option in my timeframe is the very next one, leaving in about an hour. I quickly message my couchsurfer, book accommodation for Bergen (again, I have a couchsurfer, but not for the next two nights) and settle down to enjoy the ride.
Each time I travel, I fantasise about meeting some gorgeous stranger. It doesn't help that a friend did just this on a flight to Cape Town, ended up showing her around the whole week, and is now married to her.
On the 12-hour overnight flight to Amsterdam, I was seated next to a gorgeous stranger. Who promptly went to sleep. She woke up about 2am, just as I was hoping to fall asleep myself. She started rummaging around for her iphone. This went on the whole night, and it didn't help that she got up about 6 or 7 times too (I was in the middle seat, she by the window). After a miserable sleepless night, she finally accused me of stealing her iphone and demanded to search my bags. I let her search my bag (all the while hoping it hadn't slipped into my shoe or something). She didn't find it. She wanted me to ask the equally grumpy, sleepless passenger next to me whether he'd taken it. I decided to rather ask him to get up, so that we could both get out of her way and she could search for her iphone properly. The stewards came to see what was happening.
"Is this yours?" the passenger behind helpfully asked, showing her the iphone that had slipped to the seat behind.
Happily she got her iphone back. Unhappily I was more of a wreck than usual on arrival. No, we're not getting married.
The train from Bergen to Olso is apparently one of the most beautiful train trips in the world. I sit down next to a gorgeous stranger. But she has the window seat and is blocking my view. Soon the seat in front is free, and I move there to look at the view. Just as we start ascending, and I start to see snow on the hills, the gloom descends, and I can't see anything. Thanks to the late departure, most of the trip will be overnight, and I'll miss the views. I move back to the gorgeous stranger. She likes the pictures of Cape Town. She gets off at the next stop.
I arrive in Bergen. It's late again. At least the place I'm staying at is walkable from the station.
It's a self-service checkin. Enter your booking code. Enter your credit card. Aargh, not again, can't the machines here stop showing me the price in Rands! I punch in the pin. The machine spits out my keycard, and flashes out a whole bunch of information. I'm tired, I want to go sleep. Wait, my room number?! Was it 420? 402? I enter the keycard in the main doors. Red light. A note pasted to the door says "you may have to enter your card a few times before getting a green light). I enter it again. Red light. And again. About 15 times later I'm starting to get a wild look in my eyes and am wondering how strong the door is. Luckily I'm saved from a night in Bergen prison by someone else coming in, telling me I need to remove the card quickly, rather than wait for the light.
At least the lift works, and room 402 turns out to be correct. But disaster, what's the wifi password!? Perhaps that was also on the bunch of info I didn't read. I really must stop arriving late at night as a zombie. I go downstairs to find someone. Except I can't get downstairs because I can't find the lift. I remember coming through a door into a passage, but which door? There are lots, and they all look the same! At least everything is not all white this time. I try a few, all locked. Eventually I find the stairs, find someone who can give me the wifi password, and, concentrating carefully to remember my room number, the wifi password and where I came in, make it back, and settle in for the night.
I can't sleep, with the infernal racket the fridge is making. I get up to switch it off.
The next morning I awaken, looking up at the hills surrounding this beautiful town. A deep, contented breath as I feel relaxed at last. And step into a huge puddle formed from the fridge defrosting onto the floor. Shortly after I get a reminder about the work I promised to finish up after Amsterdam, and haven't got around to yet. The hills call to me as the day passes, distractedly punching the keyboard.
My couchsurfer cancels. I get to extend my stay, and hand over my credit card again. I start to get worried about my cards getting blocked before I've even bought my return ticket to Amsterdam. I look at flight tickets. I find the cheapest ticket, one I'd briefly researched before. Click book. Wait! There's an 11-hour stopover somewhere. I may as well walk. What about direct flights? Oh god, no. I feel like crawling into a ball and whimpering when I see the price.
It rains 240 days a year in Bergen, and once set an impressive record of 85 days of rain in a row. My kind of town.
And then there's the fjords. I sit down to write some landscape love poetry.

Ah, the fjords

A good start, a little rusty, but I can feel this coming back to me.

The beautiful fjords, bellisimo, belle

Or is it bellisima and beau? What gender is a fjord anyway? Hmm, this isn't really poetry, is it. I'll skip the poetry.
Anyway, Slartibartfast deserves his award for the fjords. If you get a chance, go see some!