I'm not sure I'm going to sleep tonight.
I've discovered a classic album, one of those new discoveries that sears itself into your consciousness, leaving you forever changed. Kurt Cobain listed this as his fifth favorite album of all time. Frank Zappa apparently called them better than the Beatles. I can't believe I haven't heard of them before.
I introduce The Shaggs, with their influential 1969 album, Philosophy of the World.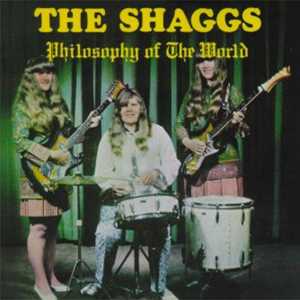 Musician Cub Koda writes: "There's an innocence to these songs and their performances that's both charming and unsettling. Hacked-at drumbeats, whacked-around chords, songs that seem to have little or no meter to them … being played on out-of-tune, pawn-shop-quality guitars all converge, creating dissonance and beauty, chaos and tranquility, causing any listener coming to this music to rearrange any pre-existing notions about the relationships between talent, originality, and ability. There is no album you might own that sounds remotely like this one."
Not all reviews were as appreciative. "Like a lobotomized Trapp Family Singers, the Shaggs warble earnest greeting-card lyrics (…) in happy, hapless quasi-unison along ostensible lines of melody while strumming their tinny guitars like someone worrying a zipper. The drummer pounds gamely to the call of a different muse, as if she had to guess which song they were playing – and missed every time." went a 1980 Rolling Stone review.
A later Rolling Stone review takes it further: "It may stand as the worst album ever recorded." and the New Yorker called the album "hauntingly bad".
If you think that's hyperbole, track 4, My Pal Foot Foot, takes the album to a new level.
The visionary band was formed and promoted thanks to a palm reading given to Austin Wiggins that claimed his daughters would form a popular band. He withdrew his daughters from school, bought them instruments, and arranged lessons for them.
Enjoy.