The March update was positive, so let's see how the various African-language Wikipedias have progressed since then. As always, this measures the number of articles, which is an imperfect metric, but it's interesting to follow the trends.
African Language Wikipedias
Language
11/2/2011
9/5/2013
26/6/2015
5/3/2016
24/11/2016
Malagasy
3,806
45,361
79,329
81,240
82,799
Afrikaans
17,002
26,752
35,856
39,065
42,732
Swahili
21,244
25,265
29,127
32,565
34,613
Yoruba
12,174
30,585
31,068
31,172
31,483
Egyptian Arabic
10,379
14,192
14,839
15,959
Amharic
6,738
12,360
12,950
13,031
13,279
Northern Sotho
557
685
1,000
2,830
7,605
Somali
1,639
2,757
3,446
3,878
4,322
Kabyle
1,503
2,296
2,643
2,847
Lingala
1,394
2,025
2,062
2,131
2,777
Shona
1,421
2,321
2,459
2,638
Kinyarwanda
1,817
1,780
1,785
1,799
Hausa
–
–
1,345
1,360
1,400
Igbo
–
–
1,019
1,112
1,284
Kongo
–
–
–
1,122
1,173
Luganda
–
–
–
–
1,082
Wolof
1,116
1,161
1,023
1,044
1,058
Afrikaans continues to grow the steadily, and recently celebrated its 15th birthday. The quality of articles is high, and it's starting to get more media attention. Which also means dealing with the kind of responses that the English Wikipedia has moved on from, such as but anyone can edit it, how can we trust it. It's good to see the solid Afrikaans community continuing their impressive work.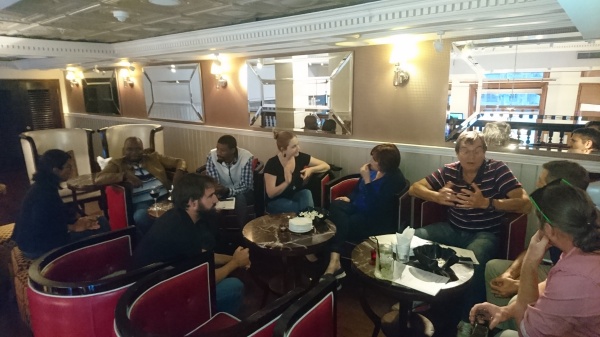 The Afrikaans Wikipedia's 15th birthday celebration in Cape Town
There's a new edition to the 1000 club this time. Welcome Luganda, leapfrogging Wolof, which has mostly stalled since achieving the milestone
Most of the languages have continued to grow as per their previous tends, but yet again Northern Sotho is an exception, and showed the fastet growth over this period. Why is it doing so well? The overused Margaret Mead quote Never doubt that a small group of thoughtful, committed people can change the world. Indeed, it is the only thing that ever has. perhaps? It's disputed whether she actually said it, but moving on, just how small are we talking about? In the case of Northern Sotho, there are two main champions. User:Mohau, who has single-handedly created a whopping 4916 of them, and User:Aliwal2012, who I mentioned in the March update, has created 2958 articles. These two editors are an inspiration!
South African Language Wikipedias
Besides Afrikaans and Northern Sotho, none of the languages are showing substantial progress, but all are showing signs of life, except for Ndebele, which has stalled in the incubator. As South Africa's smallest official language, it most reflects the struggles of many of South Africa's languages, which while official on paper, receive little to no real support.
But there's no need to wait for others. Hopefully the Northern Sotho example has inspired you. All it takes is sitting down and editing!
Picture from Wikimedia Commons.
Related articles