The 2018 Wikimania was held in Cape Town from July 18 to July 22.
Wikimania is the annual conference of the Wikimedia Foundation, the foundation supporting Wikipedia and other hosted projects, such as Wikimedia Commons, WikiVoyage, Wikidata and Wiktionary.
I've never been to a Wikimania before – the closest I came was almost going to Taipei in 2007, and leading the Cape Town bid in 2008, which I'm very grateful ended up second to Alexandria.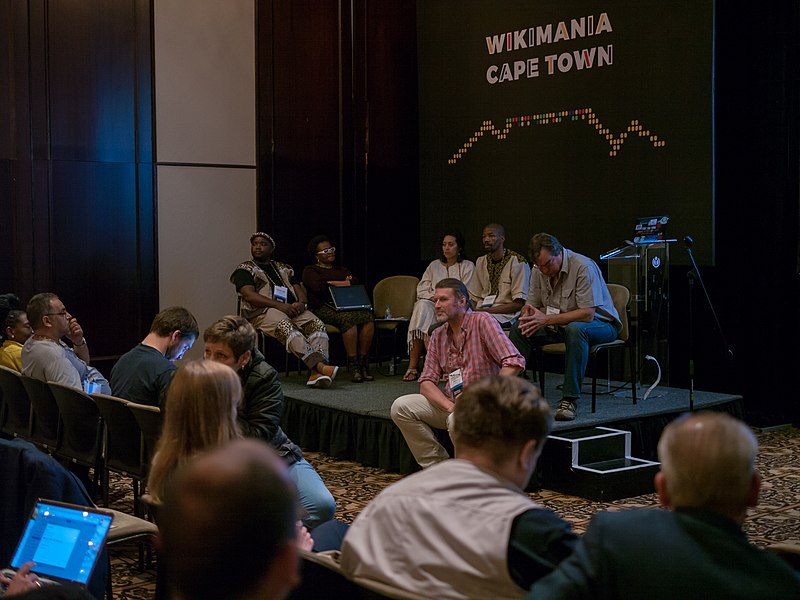 It was the best conference I've attended, and according to a few anecdotes, the best Wikimania for some of the regular participants as well. It was hosted in the Cape Sun in the central city. The entire hotel was booked, with a second nearby hotel for some of the overflow, so most of the attendees were right there, and had easy access to various tourist activities. For some participants, it was their first visit to Cape Town, South Africa, or even Africa, and judging from the stream of photos on videos on some of the channels, people were enjoyed the experience of visiting a new place.
The wifi was excellent, surpassing many other, even commercial, conferences I've attended before. Food was great, and the masterstroke of serving lunch from 10am to 4pm meant lunch fitted into everyone's schedule. And yes, if you arrived at 4pm, there was still ample food.
Another huge benefit was that, to my knowledge, everyone that wanted a visa got one. The last few Wikimanias have seen delegates, even on full scholarships, not able to attend after experiencing visa hassles. Last years Wikimania in Canada was particularly disastrous in this regard. The local organisers put effort into ensuring visa applications proceeeded smoothly, and of course South Africa, being a poorer country, is far more welcoming of visitors than most previous hosts.
There was some talk of making visa accessibility a priority criteria for upcoming Wikimanias, so we could see a number of new locations on the schedule in future. While attending in a location such as the USA is great for attracting lots of people already involved, the Wikimedia projects need to grow beyond their traditional strongholds. About a quarter (by my visual reckoning) of attendees were at their first Wikimania, so Wikimania Cape Town certainly helped reach a whole new audience.
I didn't want the conference to end. I was torn between attending multiple great sessions, meeting lots of new people, and the role I took on for the event, tweeting up a storm for the Wikimedia South Africa Twitter account, which felt like a fulltime job at times, with tweets pouring in from multiple sessions at once. Wikimedia South Africa also signed up lots of new members.
I was happy I got time to make progress on helping integrate Wikidata into the Siswati and Xitsonga Wikipedias in particular (and if I can find people to work with for the other South African languages, will help there as well).
Wikipedia has always been unstructured data, and Wikidata corrects that by structuring the data, making it much easier to use across projects. Before using Wikidata, updates had to be done on each individual Wikipedia language edition.
For example, in mid-July, the latest South African population estimate was released. At the time of writing, Wikidata and the English Wikipedia have the updated figure, 57,725,600. The German Wikipedia has the figure from 2017, 56,521,900. The French Wikipedia states the figure from 2016, 55,653,654. The Sotho and Afrikaans Wikipedias give 54,956,900, the 2015 estimate. Xhosa and Northern Sotho go back to 2013, giving 52,981,991. Zulu goes even further back, to 2011, with the census figure of 50,586,757.
Swati, thanks to Wikidata, gives the 2018 figure. It's a huge boost for everyone, with content needing only to be updated in only one location, and filtering through to all language editions.
However, there are downsides.
Installing the templates require admin permissions. I am not an administrator on any Wikipedias, and some of the smaller South African language Wikipedias don't have any admins at all, so installing them needs a helpful person with rights. Luckily it's a once-off task, and Wikimania was a great place to find help – thanks to User:Theklan, from the Basque Wikipedia, for his assistance.
But there are other downsides. Firstly, of course the templates themselves will need to be translated (you may have seen some of the terms in the Tsonga and Swati Wikipedia templates are still in English). This is inevitable, whatever method is used, and is also a once-off task, but what makes it tricky is that its's unlikely an inexperienced user will know where to translate them. Translations can be done on either Wikidata, on the template, or on both, and without personally showing someone how and where to do this, it's unlikely an editor will discover this by themselves
Once the templates are translated, the results may need to be translated as well.
Editing Wikipedia is supposed to be as simple as clicking the Edit button. It was in the early days, but now with nested templates within templates, or with templates pulling in data from an entirely different project, it's not nearly so simple anymore. The English Wikipedia has built up a great deal of complexity, all with good reason (to remove needless repetition), but it can be difficult to make a change, even for experienced editors. Introducing Wikidata introduces similar complexity to smaller Wikipedias, where there can be little expertise to overcome obstacles.
There is no simple link to click, so a user has to navigate to Wikidata, find the correct term themselves, and then navigate the slightly more difficult Wikidata interface, in order to edit a value. I don't see this happening easily.
The next downside is customisation, which is very limited. The format of the numbers, which fields are shown, which order, are all not possible or easy to customise. There's no easy way to hide fields that are still in English, or fields that the language community decides are not necessary in their edition.
Making things even more tricky are that there are different implementations of Wikidata templates. I attended a workshop demonstrating something I really needed, but the demonstrated solution was not available in the implementation I'm using.
Still, overall using Wikidata is extremely positive for the Wikimedia projects, and hopefully with some attention to simplicity in actually making edits, they can live up to their potential.
Thanks to everyone involved for making Wikimania Cape Town a great success, and leaving us inspired as we build a world in which every single human being can freely share in the sum of all knowledge.
Related posts: