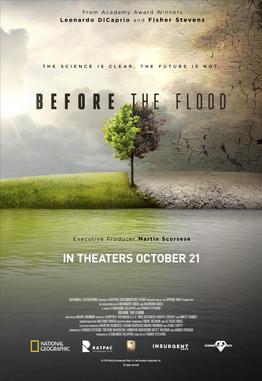 Today I watched Before the Flood with Dorje. The film is currently freely available on National Geographic's Youtube channel. Of course I've talked to him about climate change, meat eating, pollution etc, but it's different seeing it presented visually, and it seemed to have much more of an impact on him. Words alone will struggle to convey the scale of fossil fuel-related destruction of the tar sands, tropical forests, coral reefs.
The documentary has attracted some criticism from those who feel it didn't go far enough (see this review on Treehugger), that Di Caprio was too deferential as he met various political and other leaders, that his criticism should have been stronger.
But I think he got the balance right between laying out how critical the situation is, and optimism that there's still hope to turn things around. Without that optimism, there will be no personal action.
Outrage and personal attacks are never persuasive. All they do is posture for those already in the in-group, pushing away everyone else.
As Dorje jokingly said, "it's your [adults] fault everything is messed up". Sadly it's no joke, and the consequences fall on his generation.
Related posts:
Global warming and the sun
Climate change: am I a sheeple?
Technology and the environtment
Ignorance
Climate change