It's been a while since I looked at the World Press Freedom Index. South Africa was ranked 21st in the world when I first started looking back in 2003, and had slumped to 52nd back in 2013.
Looking at the rankings since, there has been a notable improvement from 2013 until 2017. While the Nordic countries are as usual on top, South Africa has been ahead of the United States each year since 2013, is currently ahead of the UK as well, and is fourth in Africa, behind Namibia, Cape Verde and Ghana.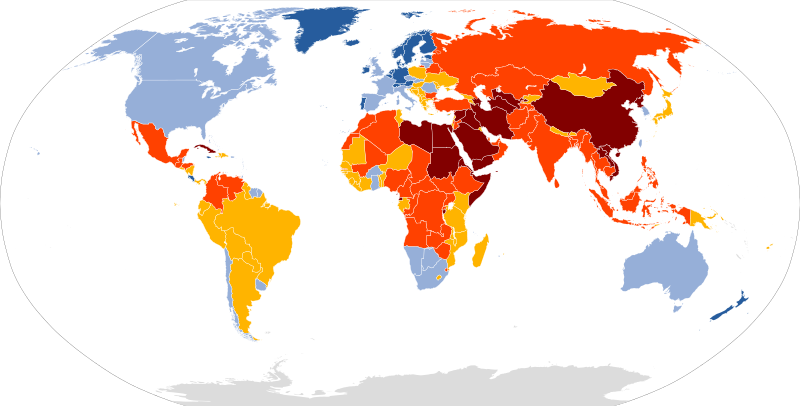 2018 Press Freedom Map
Looking at 2019 index specifically, of the BRICS countries, South Africa is far ahead, with Brazil 105th, India 140th, Russia 149th and China a dismal 177th.
While the trend has been positive, the last two years have seen setbacks, in particular 2018-19. The report attributes this to harassment by state security agencies spying on some journalists, as well as intimidation campaigns by politicians. Much of this has been of ruling party politicians accused of corruption, but particularly noteworthy was the EFF's attack on journalists, with their supporters making death threats and rape threats, fueled by their leadership.
As far as media diversity goes, there's been some shift, with online-only media starting to make an impact. Daily Maverick, which launched in 2009, gaining prominence as an alternative media voice, and Ground Up, which launched in 2012, a small media house focusing on high-quality, ethical journalism. The once-dominant Independent News and Media is a shadow of its former self, with accusations of interference in the editorial process by its owners, and many credible journalists leaving. 2015 also saw the launch of the first Xhosa-language newspaper, I'solezwe lesiXhosa.
Below is the table since 2003. Note that a lower score is better, and also that the scoring system has changed over the years, particularly in 2012 and 2013.
| Year | Score | Ranking |
| --- | --- | --- |
| 2019 | 22.19 (-1.80) | 31 (-3) |
| 2018 | 20.39 (-0.27) | 28 (+3) |
| 2017 | 20.12 (+1.80) | 31 (+8) |
| 2016 | 21.92 (+0.14) | 39 (=) |
| 2015 | 22.06 (+1.13) | 39 (+3) |
| 2014 | 23.19 (+1.37) | 42 (+10) |
| 2013 | 24.56 (-12.56) | 52 (-10) |
| 2012 | 12 (=) | 42 (-4) |
| 2010 | 12 (-3.5) | 38 (-5) |
| 2009 | 8.5 (-0.5) | 33 (+3) |
| 2008 | 8 (+5) | 36 (+7) |
| 2007 | 13 (-1.75) | 43 (+1) |
| 2006 | 11.25 (-4.75) | 44 (-13) |
| 2005 | 6.5 (-1.5) | 31 (-5) |
| 2004 | 5 (-1.66) | 26 (-5) |
| 2003 | 3.33 | 21 (+5) |
Related posts