It came as quite a shock to hear this afternoon that Matthew Buckland had died.
I first met Matthew at the Digital Citizens Indaba (DCI) in Grahamstown in September 2006, where I was speaking on the Web 2.0 panel. Matthew was editor of the Mail & Guardian Online at the time. Mail & Guardian online was then the pick of the local online media, punching way above its weight, and much of this was due to Matthew's leadership.
I remember him passionate as we explored the possibilities of new media, and friendly and generous with his time.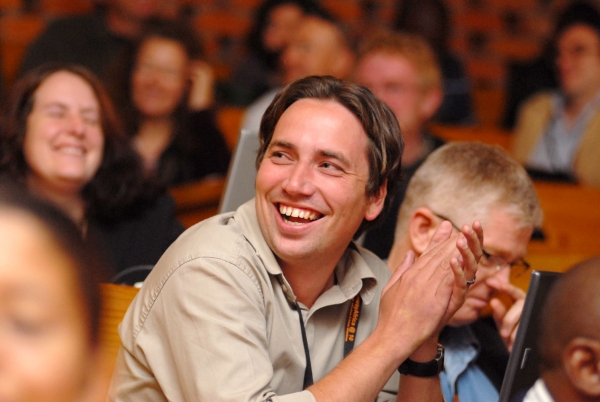 Matthew Buckland at the DCI in September 2006. Picture by Gregor Rohrig.
Thinking back to when the DCI took place, it was a dynamic time, full of possibility and new creations. Muti had come out in January 2006. Written by Neville Newey, apparently I inspired him to write it and offered some ideas, but in reality I had little to do with it. I think such was the vacuum in those early days that this was why I was invited to DCI! The Rat and Parrot, and many great conversations. My first encounter with the famous Mushy Peas on Toast. Blogging was revolutionary and everything was possible. In the weeks, months and years following the Digital Citizens Indaba, there was a burst of innovation. And Matthew was at the heart of much of it.
Amatomu, which Matthew co-founded, and Afrigator launched within days of each other. Thought Leader launched in 2007. Memeburn a few years later, and he was MC at the launch of Silicon Cape.
The word inspire can be defined as to fill others with animation, a quickening or exalting influence. Reading the outpouring of support since the announcement, it's clear he touched many people's lives, and left a legacy far more influential than he probably realised.
Go well Matthew.
Related posts